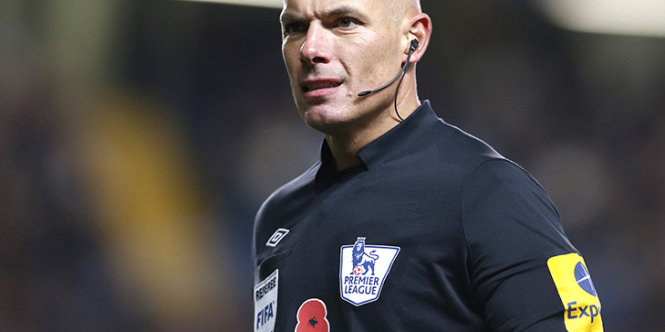 Howard Webb selected for 2014 FIFA World Cup
21 January, 2014
The 42-year-old also refereed at the 2010 FIFA World Cup in South Africa where he was given the honour of taking charge of the final between Spain and the Netherlands.
As in 2010, Webb's assistants in Brazil will be Mike Mullarkey and Darren Cann.
"All referees want to officiate on the biggest stage, so it's a great honour for myself, Darren and Mike to return to the FIFA World Cup Finals," Webb said. "The World Cup is special to be part of: we had an amazing experience in South Africa and our involvement in the Confederations Cup last year means we can't wait to return to Brazil for what promises to be a terrific tournament.
"Our appointment is also an endorsement of the standard of refereeing in this country. This is the best group of Select Group referees I've ever worked with and I'm sure we'll see several of them at major tournaments in the future."
Webb, who has been a Premier League referee since 2003, took charge of the League Cup Final in 2007, the 2009 FA Cup Final and the 2010 UEFA Champions League Final while he was also selected for UEFA Euro 2008.
He was named on FIFA's list of referees for the World Cup in 2010 and took charge of the group matches between Spain and Switzerland, Italy and Slovakia as well as the last 16 clash between Brazil and Chile.
And in being selected for the 2010 final, Webb made history as he became the first man to officiate the Final of both the Champions League and the World Cup in the same year.
"All of the staff and officials at PGMOL are thrilled that Howard, Darren and Mike being appointed to the 2014 FIFA World Cup Brazil," said Mike Riley, General Manager of Professional Game Match Officials Limited added. "It's great credit to Howard's professionalism, and his love of the game, that he has only got better since taking charge of the 2010 World Cup Final and is fully deserving of his selection for Brazil.
"It's unprecedented in modern-day refereeing what Howard, Darren and Mike have done here: they should be very proud at getting selected again after already having taken charge of the World Cup Final. He and his team are a fantastic example to young referees and assistant referees of what years of dedication delivers."